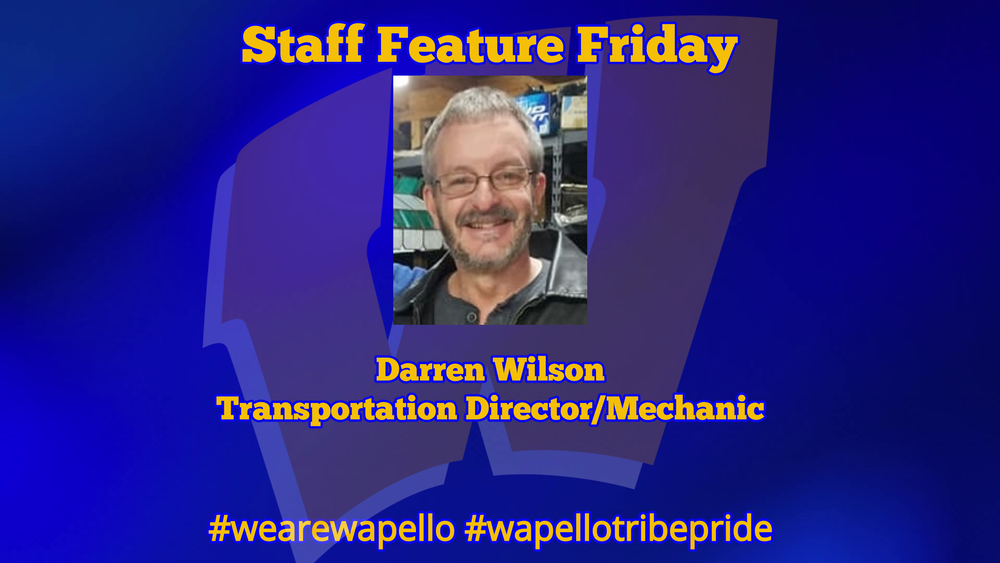 Staff Feature Friday - Darren Wilson, Transportation Director/Mechanic
Eric Small
Friday, July 05, 2019
This Friday's Wapello Community School District Staff Feature Friday spotlight's Darren Wilson! Darren is our Transportation Director and Mechanic, he is responsible for the overall transportation needs in the district, from scheduling drivers to drive our extra-curricular activity trips to keeping our vehicle fleet in top condition.
Darren is in his second year as the district's Transportation Director. Before being appointed as the Transportation Director, Darren spent his career as a mechanic at local dealerships, he brings many years of experience to his position here at the Wapello Community School District.
Darren holds an AA Degree in Automotive Technology from Texas State Technical College.
His family includes his girlfriend Tanya, and daughter Rachel. In his spare time, you will find Darren riding motorcycles and tinkering with old cars. He also enjoys traveling whenever he gets the chance.
When we asked Darren what he likes best about working at the Wapello Community School District, he responded, " All the great people that I work with every day and helping the school district achieve its goals."
Congratulations to Darren Wilson on being selected for our Staff Feature Friday! Check back next Friday for another staff member to be featured!
#wearewapello #wapellotribepride