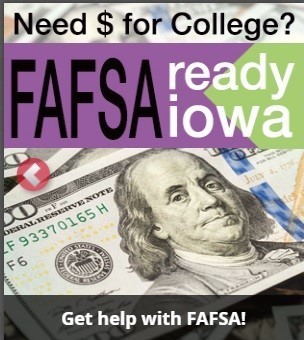 FAFSA Ready Iowa Workshop to be held at SCC
Eric Small
Thursday, October 25, 2018
Completing the FAFSA can be stressful! There is help available to you!
West Burlington Campus of Southeastern Community College, Room 192
Wednesday, November 7 from 3-6 PM
Students and their parents are invited to join us for FAFSA Ready Iowa on Wed, Nov. 7 from 3 to 6 pm at SCC in West Burlington and Keokuk.
We'll take the pressure off and help them complete the applications, no probs.
No RSVP needed - they just show up!
Open to any college-bound student, regardless of where they're going.
A parent will need to be present so they can offer their information.
Remind them to bring as much of the following as possible:
Social Security number, driver's license number, and date of birth
Most recent federal and state tax returns
W-2 forms or other records of income earned last year
Current bank statements and investment records
Records of untaxed income received last year
A-Number (if not a U.S. citizen)
If they'd like, they can register in advance for an FSA ID to electronically sign the forms and make future changes.
Visit fsaid.ed.gov for instructions.
For More Information, visit the information page on the SCC Website by clicking here.