EDIT MAIN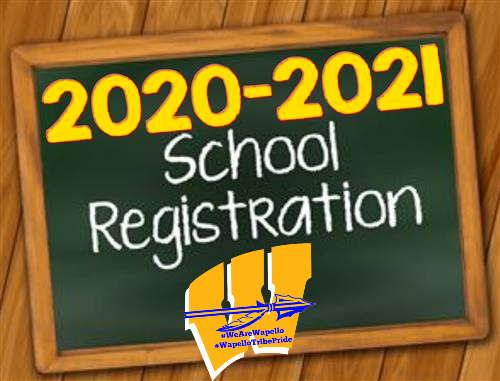 Wapello Community School
Registration Information
Wapello Community School District's first day of school is on Monday, August 24th, 2020 at regular start time 8:10 a.m. for Jr. & Sr. High School and 8:15 a.m. for Elementary, if students arrive after this time, they will be considered tardy. Morning breakfast at 7:50 a.m. for both buildings and hot lunch at the regularly scheduled time will be in operation on the first day.
There will be NO in-person registration for the 2020-2021 school year, the district has set August 4th as a day for individuals to call and make an appointment if they would need any guidance or internet/computer access. Each of our office locations will be ready to help get this school year started! Central Office 319-523-3641, High School Office 319-523-3241, and Elementary Office 319-523-5571.
Online registration will be available soon! We will post a notification on our website as well as our Facebook page. Look for instructions on our website for the online registration once that becomes available. Two components need to be completed for the online registration process to be successful. After signing into the PowerSchool site, click on the E-Registration Link to update and register students. This logo is located on the bottom left side of your screen. As you are completing the E-Registration one of the tabs will be indicated fees which will take you to the PaySchool link. Log in and pay student fees on this screen. Once all the student information is updated you will get a green checkmark and the registration process has been successfully completed.