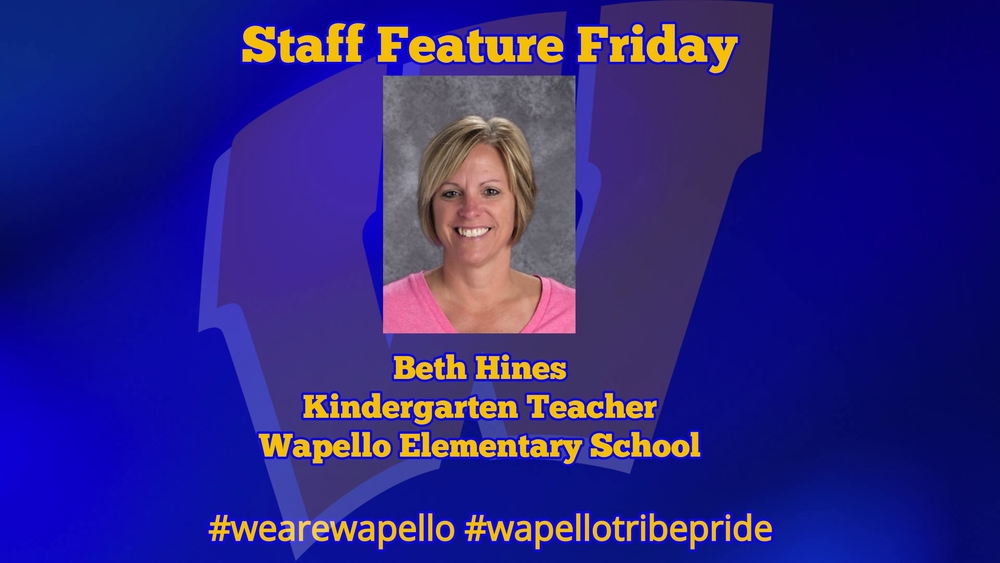 Staff Feature Friday - Beth Hines, Kindergarten Teacher
Eric Small
Friday, May 03, 2019
Today's Staff Feature Friday shines the spotlight on one of our Wapello Elementary Kindergarten Teachers, Mrs. Beth Hines.
Mrs. Hines is a graduate of Wapello High School and resides in Wapello with her family. Her family includes her husband Bill, and three daughters, Anna and her fiance John Wischmeier, Allison and her husband Trevor Massner, and her youngest daughter Carly.
Mrs. Hines is in her 27th year in education with all 27 years being taught at Wapello Elementary!
Mrs. Hines attended Iowa State University for a year and a half before transferring to The University of Iowa where she obtained her teaching degree with a specialization in Early Childhood Education.
In her spare time, you can find Mrs. Hines spending time with her daughters and their significant others. She also enjoys going camping and fishing. During the fall and winter months, you can find her cheering for the Denver Broncos with her husband!


When we asked Mrs. Hines what she likes best about working at the Wapello Community School District, she had this to say, "I feel we have a school district that is always striving to do better for our students and provide them with the best education possible."

Congratulations Mrs. Hines on being selected for our Staff Feature Friday spotlight! Check back next week for another staff member to be featured!
#wearewapello #wapellotribepride