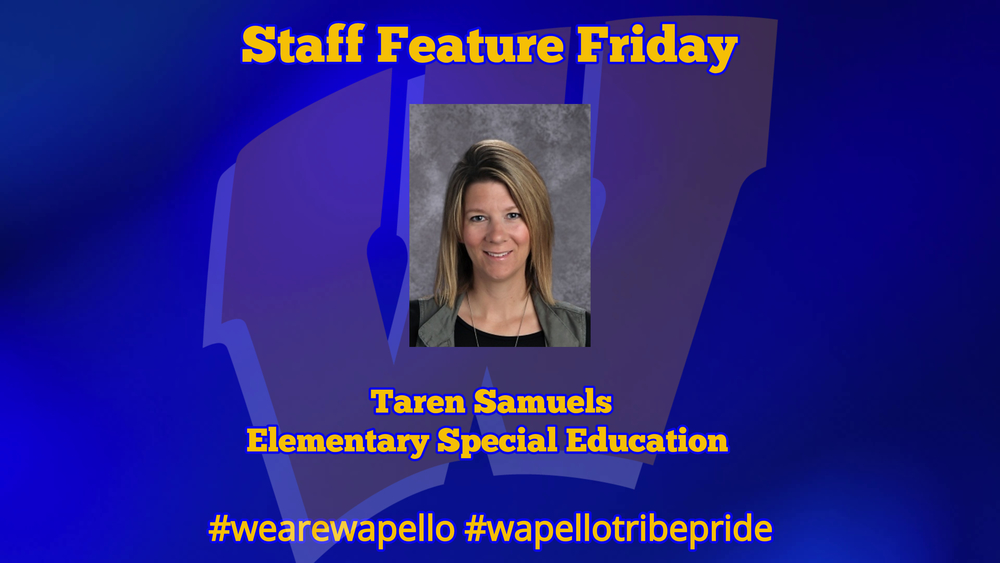 Staff Feature Friday - Taren Samuels, Elementary Special Education
Eric Small
Friday, May 31, 2019
This Friday's Staff Feature Friday puts the spotlight on one of our Elementary Special Education Teachers, Mrs. Taren Samuels.
Mrs. Samuels' family consists of her husband Trent and her four children, Tayson, Treyor, Taelyn, and Ty. They also enjoy the company of their big yellow lab named Trixie!
Mrs. Samuels holds an AA Degree from Kirkwood Community College, an Undergraduate Degree from the University of Northern Iowa with a major in K-6 Elementary Education and a minor in K-8 Learning Disabilities (now called Instructional Strategist I). She also holds a Master's Degree from Western Illinois University as a K-12 Reading Specialist. Mrs. Samuels has a total of 14 years of teaching experience; all 14 years have been at Wapello Elementary.
In her spare time, you will find Mrs. Samuels spending time with her family on their farm, attending her kids' many sporting events and activities, and occasionally sneaking away to dine out!
When we asked Mrs. Samuels what she liked best about working at the Wapello Community School District, she had this to say, "I have the pleasure of working with students for multiple years in a row. I love to see the progress they make between the first time I see them, and when they are ready to move on to Junior High! I also love just being able to chat with kids about their weekends or anything they enjoy sharing! I enjoy building positive relationships with them!"
Congratulations to Mrs. Samuels on being selected for today's Staff Feature Friday, check back next Friday to see who we spotlight for the next installment of our Staff Feature Friday!
#wearewapello #wapellotribepride